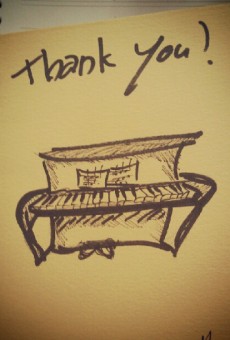 I put the digital version of the album up on sale at the end of November 2011, but the physical CDs didn't surface until January 30th 2012, so the album has been available properly for a year now. It's been a busy one.
I'd just come back from playing at the Guinness Cork Jazz festival at the end of October when I went and got the record mastered in Limerick. There were a few niggles with the first master, so there was a retake, and then I finally had something in my hand that I could put out there and have people listen to.
Honestly, I don't know how to express just how afraid I was of that step.
For a very long time, I was the guy off to the side of the stage playing piano for someone else. Or having a few songs of my own before the main event. But mostly, playing other people's music.
This was the first time I had properly recorded something of my own, performing and singing and taking the lead on the whole thing. To finally have the finished tracks in my hands was the scariest thing.
I knew that not everyone would like the music. And although you try and tell yourself that it doesn't matter if anyone likes it at all, it really does. Why else record? Why else put music out there? You want someone to connect to the songs in the way that you did writing and recording them.
I was already reeling that 113 people had enough faith in my music to fund it and help it to get finished. I really was hoping that at least those wonderful people would enjoy the record.
Emailing out download codes to all the funders was the most nerve-wracking experience, while also being a beautiful sort of relief.
Then there was a sort of magic to come home one day to a big box with all the CDs in it, especially after the many ups and downs with getting the design for that all ready. Seriously, the packaging side of things seemed to be a bit cursed : the first designer on board had a little accident and had to take time off work and had to cancel on doing work on this project.
Then the second designer had a computer hard drive failure after doing most of the main design work, and had to redo the whole thing again from scratch (Thanks Dónal, you legend.)
Then with the handmade edition, there were all kinds of little set backs relating to the paper, the kind of ink being used for the print, and the clarity of the text when you're doing screenprints by hand. I spent many hours folding, cutting, gluing, signing, editioning, and numbering all the handmade ones.
There were 88 of those made. One for each piano key. They were mostly all pre-sold through the fundit campaign, and when I realised I had a few extra, those went on sale and didn't last more than a few hours. They are a gorgeous digipack and also contain the regular cd sleeve packaging, and combined they are more personal and beautiful than I imagined we could manage to put together on such a tiny budget.
Then there were postcards and notes to write, and some people who had given their time to help out over the course of the project got little thank you cards that I made too.
I think one of the happiest moments for me was when I was able to start writing out address labels and putting the finished limited edition CDs into the post. The people in the post office got used to me appearing every day with another batch, and sending them off to places as far away as Sydney gave me as much of a thrill as meeting people in person to hand deliver the finished product.
Videos were planned. Some were recorded, some were delayed, and in one case, transformed into a live dance show instead that had a short run as part of a festival here in Galway. That was a surprise development that was certainly not a part of the original plan.
It was my first time attempting anything like this on this kind of a level, and yeah, at times I felt like I didn't have a clue what I was doing and I was in over my head. But I tried to learn what I needed to, and asked advice, asked for help, and worked out answers to problems that arose. Some things didn't work out – like a vinyl edition of the record, for example, which I would still love to do at some point.
But damnit, I'm pretty damn proud of this little record.
Now. What's next?